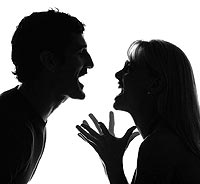 Yesterday, the news program I was watching reached a commercial, and as I began to flip through a few channels, one of the courtroom shows caught my attention. The episode that I tuned into was a divorce case between a husband and a wife that had been married for just under a year. The reason for filing for divorce was "We just weren't meant."
In new statistics just released, "One out of three Americans have been divorced at least once."
George Barna
, who directed the study, noted that Americans have grown comfortable with divorce as a natural part of life. We must ask ourselves the question: has this contentment always been a part of our society? It's almost impossible to partake of some type of media these days and not hear of a relationship on the rocks or a marriage that has ended in shambles.
"There no longer seems to be much of a stigma attached to divorce; it is now seen as an unavoidable rite of passage....Interviews with young adults suggest that they want their initial marriage to last, but are not particularly optimistic about that possibility. There is also evidence that many young people are moving toward embracing the idea of
serial marriage
, in which a person gets married two or three times, seeking a different partner for each phase of their adult life."
So, where do we go from here? What are your views on divorce?
What effects do divorces have on society?
Is it biblical to divorce? If so, on what grounds?
Do you believe in soul mates?
A divorce can be quite devastating. Is there life after divorce?